Media Partners
CNBC Africa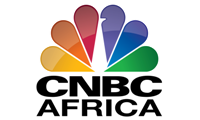 Africa's first and only pan-African real-time financial and business network. CNBC Africa is part of the global CNBC 24 hour broadcasting network reporting live financial and business information from the major financial centres in Africa, the US, Europe and Asia. The combined reach of CNBC and its siblings is 390 million viewers around the world.
CNBC Africa was launched on the 1st June 2007 and offers a unique global perspective from an African platform. With offices in Johannesburg, Cape Town, Nairobi, Lagos and Abuja, CNBC Africa is dedicated to the African CEO and senior corporate executive, the African financial services industry and the African investor.
Presented by experienced anchors & journalists from across the continent, it is essential viewing for those who want to understand the business of Africa.
On CNBCAFRICA.COM you will be able to get the latest programming information, sign-up to the bi-weekly newsletter 'Taking Stock' and get any up-to-date information about Africa's dedicated markets network.